"Public welfare is not done because it is meaningful, but because it is meaningful."
——introduction
"Which universities do you know?"
"Who is your favorite cartoon character?"
"What is your aspiration?"
"Who do you admire most?"……
Volunteers as companion ambassadors used games to break the ice in order to quickly establish friendship with the children being aided. The children responded enthusiastically. Some wanted to be astronauts to explore space, some wanted to be policemen to defend the people, and some wanted to be teachers. This is one of the countless moving scenes of the "Guardian Childhood" activity.
During the interaction between you and me, the activity enters the next link. Through volunteers' sharing of the beautiful life and learning experience on the university campus, the children are full of curiosity and yearning for the future and open a window with scenery.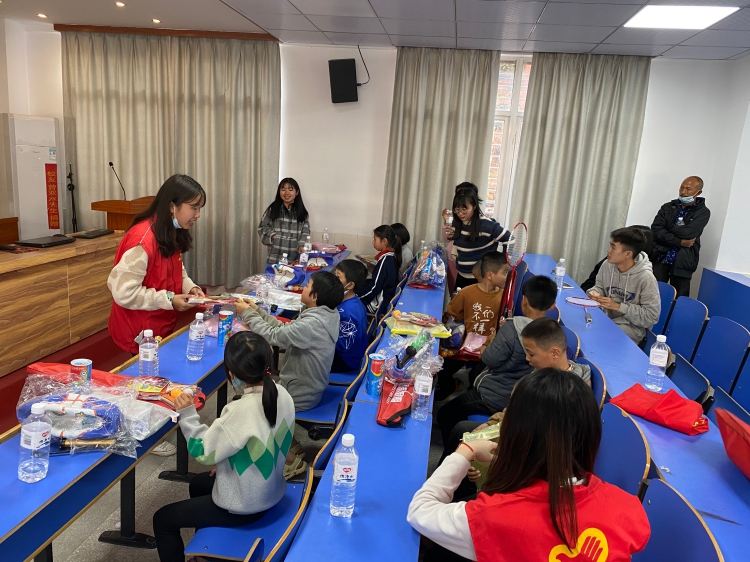 On December 25, 2020, the 2021 winter vacation "Guardian Childhood" warm charity activity for college students co-sponsored by the China Children and Teenagers' Foundation and Beijing Yuanwang Charity Foundation opened a new round of love and volunteer journey for left-behind children in rural areas, The quality education and mental health development of children in distress are sent to warm, caring and affectionate companionship. 23082 college students from 1,478 colleges and universities across the country registered online, and finally 5400 outstanding college students were selected to participate in the activity. A caring bag is distributed to each university student volunteer through logistics, containing more than 40 love gifts, including basketball, badminton equipment, table tennis equipment, gouache, watercolor, oil pastel, painting book, etc., by university student volunteers during the winter vacation Brought to the aided children, the activities benefited more than 16,200 children.
Where there is love, there is hope
After the training of the person in charge and the exchanges and discussions with the team members before departure, with the vision of "plug the wings of dreams for the children", on February 4, 2021, 15 Fujian university student volunteers from universities across the country were in Zhangzhou City, Fujian Province Pinghe County government building is ready to go.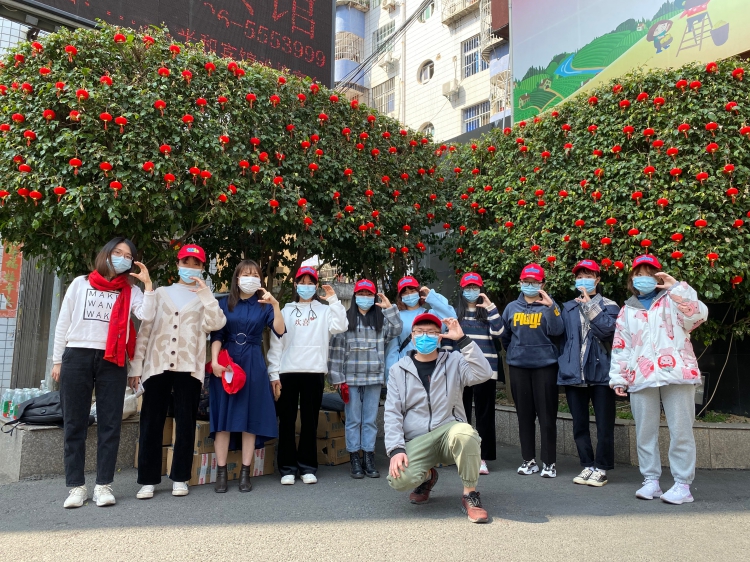 Lai Ziliang is a graduate student majoring in electronic science and technology at Beijing University of Posts and Telecommunications. He and his team have a total of 40 children. The team members worked out a detailed and comprehensive organization plan and schedule of activities.
In the ice-breaking session, small games such as the eagle catching the chick, writing on the back, and drumming to pass flowers made the children enthusiastic. In the continuous promotion of the activity, the volunteers make full use of what they have learned, exert their creativity, and bring spiritual food and emotional comfort to the children through various and colorful activities. Art-related volunteers guide children to create paintings, volunteers who are good at sports lead children to play basketball, table tennis, and badminton, and medical volunteers teach children about sex education and health education...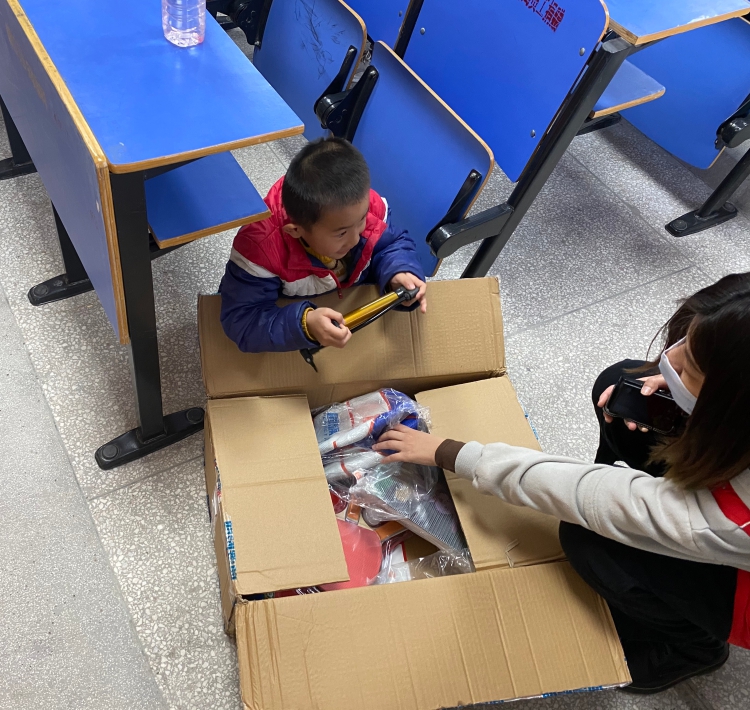 In the laughter, the volunteers encouraged the children to say what they wanted to say to their parents. When "Mom and Dad, I love you" was said from each child, everyone present was moved. Recalling the questioning session when breaking the ice, when asked "who is the most admired person", some children answered their grandparents and moms and dads.
Children's hearts are pure, irrespective of intolerance, no matter what abilities, what you give, they can always realize the most authentic existence, that is "love." As long as you love them, you are their "hero".
"Although material and emotional conditions are limited, these children still have a positive, optimistic, and self-powered motivation. As volunteers, we are also touched by their spirit. They are all the best little angels." Lai Ziliang With emotion. Just as the vows when we set off are still in my ears: "If there is love, there is hope, and if there is love, there is power; we promise to do it, and we will do it!"
Helpers also help themselves
Volunteers from Lai Ziliang's team left their contact information when they said goodbye to the children, "We will establish long-term communication with the children we meet, pay attention to their growth, and put our love into practice." As college student volunteers who provide assistance, although they have just bid farewell to the youthfulness, they have matured their minds and tempered their character while volunteering to serve the society, leaving an unforgettable youthful memory for themselves.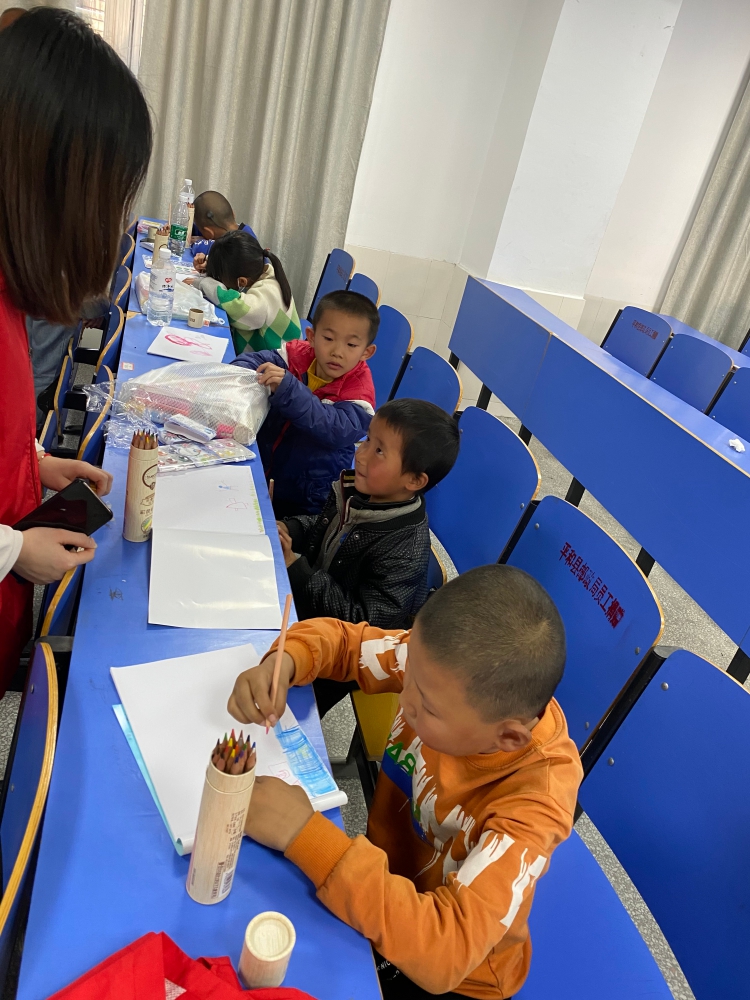 19-year-old Chen Xiang studied administration and management at Yancheng Normal University. This winter vacation, she contributed her meager effort to the care of left-behind and difficult children—being a "caring courier". "This event made the children and their families feel the warmth of society and their own value."
The first child she met, Xiao Lei, was a shy boy. He had no mother since he was a child, and lived with his father and frail grandparents. Like most children in this situation, he is shy and sensitive. Chen Xiang saw Xiao Lei who was cautious and even a little overwhelmed when he accompany his children to paint with the gifts in his love bag. Looking at his painting results, Xiao Lei suddenly raised his head and said, "It's so beautiful." Xiao Lei smiled shyly at Chen Xiang, "I think he just doesn't say it, but he understands it all in his heart. He is a sensible child." Chen Xiang Say.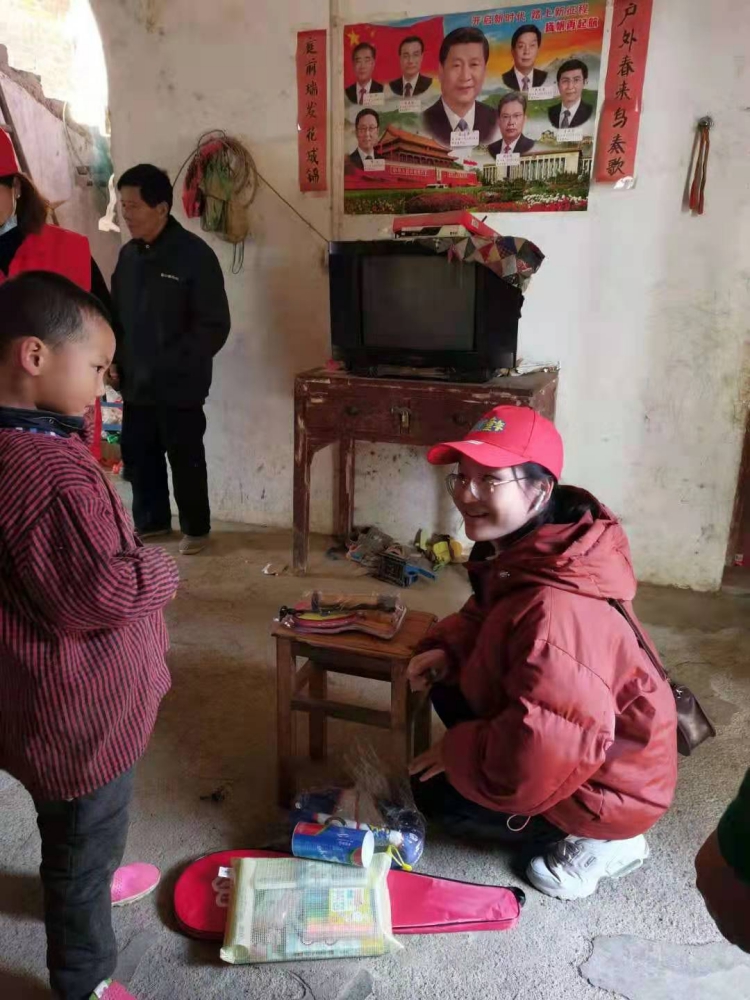 There were several chickens and rabbits in the old yard of Xiaoxue's house. Through the light leaking through the door, Chen Xiang saw a 14-inch old-fashioned TV. There are five children in the family. Xiaoxue, who is in the second grade of elementary school, is the second child. The family depends on his father to farm. At first, the girl was a little shy. Chen Xiang suggested to play basketball together. In the process of taking turns to cheer up the basketball, the atmosphere gradually warmed up and the barriers slowly disappeared. Chen Xiang found that Xiaoxue was actually very lively and active, showing a tricky smile when she learned to play badminton and table tennis.
Xiaohui's parents rarely work outside and go home. She lives with her grandparents. When she first saw her, she took the initiative to say hello, moving a stool, pouring water, and going in and out to greet her, acting generous and courteous. During the communication, Chen Xiang felt her longing for her parents and her optimistic personality. She said that although she missed Mom and Dad, she knew that Mom and Dad would make money outside to support the family. She hopes that the sick grandma will get better, and she believes everything will be better. "I can see that this girl's small body contains great power, her strength and hope for life." When leaving, Chen Xiang promised that Xiaohui would come back to see her often.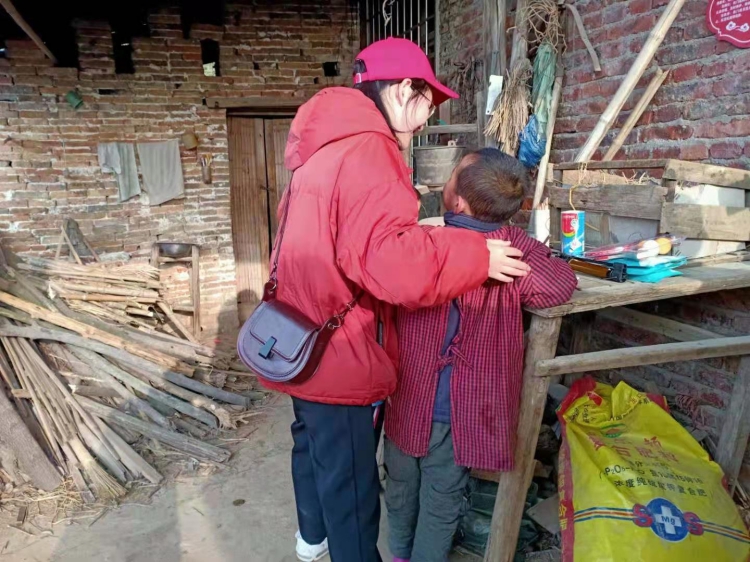 For these children and volunteers, companionship is actually so simple. Chen Xiang said: "While helping others, it is also self-help. While making other lives live out their colors, they also get their own sublimation and a deeper understanding of the meaning of life.
Warm your winter, sow beautiful hope
"I am very happy that through this activity to protect my childhood, I took the first step in my dream of volunteering and loving. This is also the promise I made to myself before going to university. Ten years ago, I was the one who was helped by my brothers and sisters from college students. The child, ten years later, this child has grown up and wants to be the volunteer sister in the hearts of the children.
Her name is He Yujiao, and she lives in Shiqian County, Tongren City, Guizhou Province. She is a freshman majoring in law at the Minzu University of China.
On the day of the event, I heard that the big brothers and sisters were coming, and the children ran to the door early to wait. They had clear and bright eyes and innocent faces. The moment they got the gifts, there was a smile in their eyebrows. For He Yujiao, all this hits the soul, as if she saw herself ten years ago.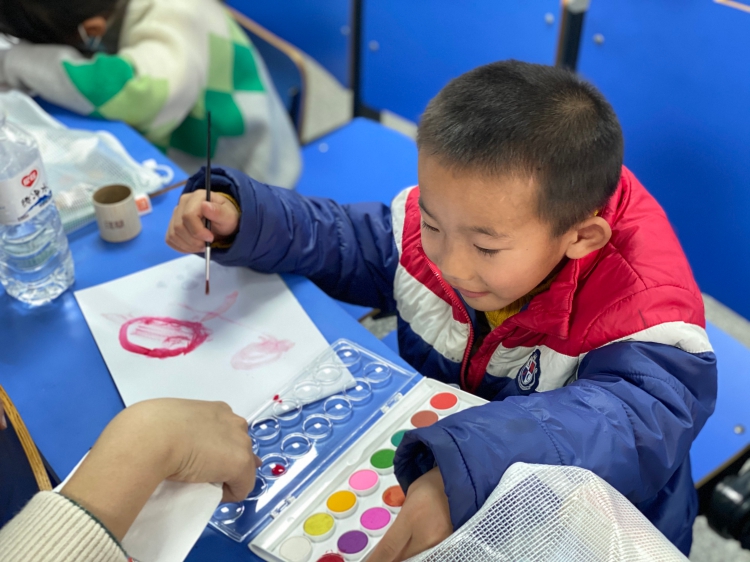 A boy impressed her. He barely spoke or smiled. He stood alone. While distributing the gift of love, he whispered: "I like drawing." He smiled when he got the whole set of painting books. This was his first smile. She deliberately talked to the boy more, talked about his school life, class schedule, painting preferences, and took a group photo with him. He was always silent. At the time of parting, he waved to her initiatively, his eyes were unforgettable.
There is also a girl in the fourth grade of elementary school. After her mother ran away from home, she and her 60-year-old father depended on each other. When He Yujiao arrived at her house, she was sitting with her father by the fire, and the house was very quiet. Introverted girls have few expressions on their faces, and they are slow to paint with new gifts. For this visit, He Yujiao learned some knowledge about child psychology. She knows that she still needs to be patient and communicate in an equal manner when no feedback is received. She took the girl to paint the little red flowers, hoping that she was as brilliant and cheerful as a flower. At the moment of parting, the child's eyes were red.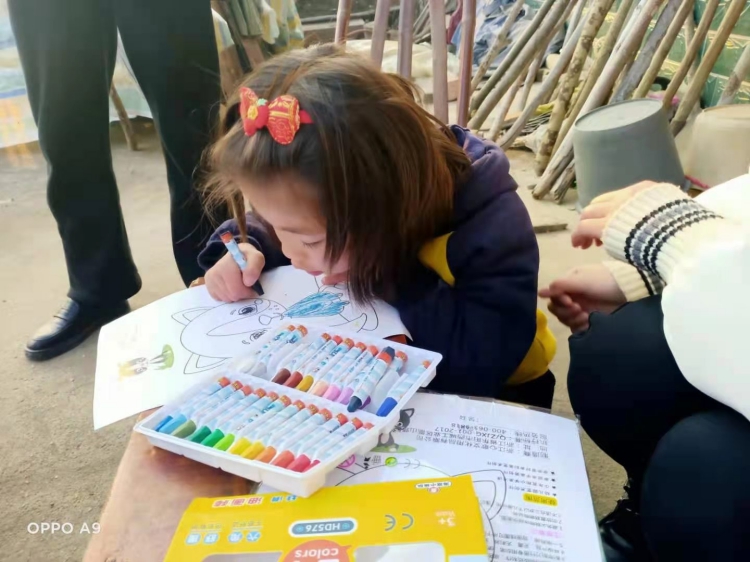 There is no doubt that He Yujiao has fulfilled a promise.
"I think they actually have something in their hearts. I don't know if my arrival has disturbed these small worlds, but I will come back again. I just want them to know that there are children on this side of the mountain, and that of the mountain. The side is far away, and in the middle is love."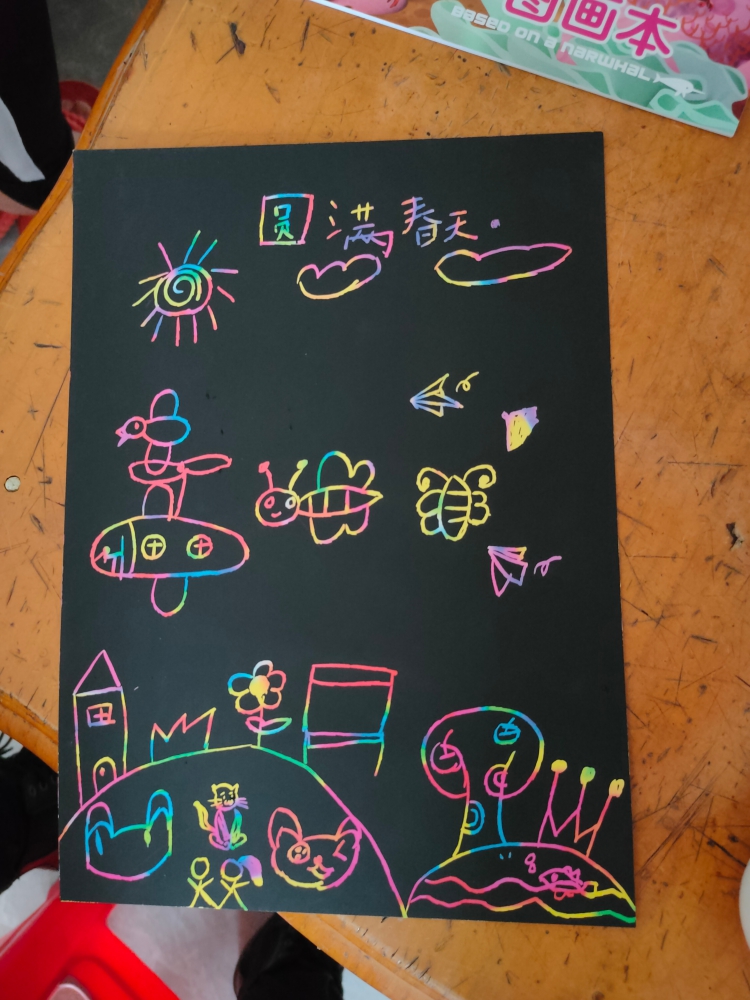 The title of the article "There is light in the eyes and dreams in the heart" comes from the insights of Lin Shaowei, a volunteer from Guangdong University of Technology. He wrote: I clearly remember that when I gave a gift to my child, she clapped vigorously many times and ran to The kitchen told my mother that my brother gave me many gifts. Then ran to me, hugged me all at once, and couldn't get rid of it. Maybe this is the powerful force of happiness.
In the dynamic column of the "Consummation Holiday" platform, volunteers left messages: "Compared to material, companionship is the most lacking childhood color." "I hope that the children grow up healthy and always cherish love." "Thank them for staying with me." Spend this meaningful holiday." "Thank you for providing such a platform, and we are with you."...thousands of records, thousands of warmth and responsibility. Rather than writing, it is better to say that this text is a gathering of the hearts and minds of the volunteers. It is shocking, comprehensible, moving, and rewarding.
"Public welfare is not done because it is meaningful, but because it is meaningful." The quotation at the beginning of the article comes from a summary of the activities of a college student volunteer, and this volunteer is also a quotation. There is no need to verify the exact source of this kind of truth transmission. Kindness does not have to be "famous", only action is its true meaning, and the so-called "meaning" in the world is not the case?
Share to: