On December 9, the 2019 social organization public welfare communication and brand building training course started in Beijing.
Under the guidance of China Federation of Cyber ​​Social Organizations, the training course was hosted by ByteDance Charity, and organized by China Children and Teenagers' Foundation, Institute of Media and Public Affairs of Communication University of China, and Beijing Xinmin Social Organization Capacity Building Promotion Center. The training targets are 120 persons in charge of press and publicity work of social organizations, which come from national social organizations, national social organization propaganda partnership program units, local registration management agencies and local social organizations.
Zhu Xisheng, Secretary General of the China Children and Teenagers' Foundation, said during the opening ceremony that the Fourth Plenary Session of the 19th CPC Central Committee put forward clear requirements for comprehensive development and philanthropy. Public welfare undertakings, "innovating public service provision methods, encouraging and supporting social forces to promote business benefits," "giving play to the role of group organizations and social organizations," and "building a social governance community where everyone has responsibility, everyone is responsible, and everyone enjoys it. This is the new positioning and new requirements of the CPC Central Committee for all-round development and philanthropy. It is ground-breaking and milestone. It is the guiding program and action guide for promoting the development of philanthropy in the future.
Xing Faliang, Deputy Secretary-General of China Federation of Cyber ​​Social Organizations, stated in his speech that the "Outline for the Implementation of Citizen Moral Construction in the New Era" states that we must do a good job in moral construction in cyberspace, enrich online ethical practices, and actively cultivate and guide Internet philanthropy forces to strengthen Internet philanthropy The team formed a vivid situation of active participation in public welfare activities online and offline. Strengthen online public welfare publicity, guide people to do public welfare anytime, anywhere, and at any time, and promote the formation of a good fashion of caring for others and contributing to society. Expand the "Internet + public welfare" and "Internet + charity" models, and carry out various forms of online public welfare and online charity activities to stimulate the enthusiasm of the whole society for enthusiastic public welfare and participation in charity. Holding this training is a practical action to implement the outline.
"With the development of technology, the media is constantly changing. People's lifestyles and ways of thinking also change with the changes in the way they receive information." Li Tao, Vice President of Byte Beat, encouraged everyone in his speech, "In such a In the information age, how to make public welfare ideas spread farther and wider is an issue that every public welfare organization and every public welfare communicator needs to think about. "
With the advent of the mobile internet, especially the 5G era, social organization's public welfare work is facing new challenges and new opportunities. The training aims to improve the new social organization manager's new social media positive case by teaching social media government new media operation, explosive vibrato short video operation strategy, building social influence of public welfare brands, and sharing typical cases of positive publicity of social organizations. Literacy and new capabilities, to promote social organization's news and publicity work to adapt to the development of the times, and to provide a platform for social organization's news and brand communication experience exchange.
The training course content is set to keep pace with the times and is highly operable.
China's public welfare undertakings are moving towards a more professional path. Engaging in public welfare cannot be conservative and indifferent, but also reduce misleading to the public at work. Which promotional tools should be used? What should I say? How to use it in actual work? Many students come to class with similar questions.
In this regard, Ming Jing and Yao Ying from the Office of the Yingxiang Project of the China Children and Teenagers' Fund deeply understood that "the extensive work style is no longer suitable for new job requirements." After listening to a lecture by Dong Guanpeng, Dean of the School of Government and Public Affairs, Communication University of China, both said that "the thinking is clearer."
Dong Guanpeng's "Public Media Guidance Practice 5.0-New Accomplishments and Abilities Required by Managers of Social Organizations", uses the analogy between the relationship between Tao and Shu to explain how to safely control problems encountered in actual work. Boundaries and flexible use of methods, "the content is grounded, and operable," Ming Jing said, "some methods can be used over time."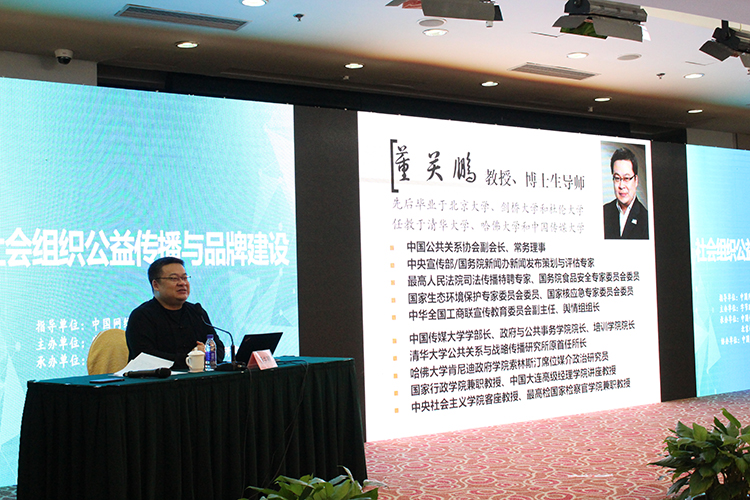 In the 5G era of high-speed public opinion and ever-changing public opinion, any unit should attach great importance to responding to the concerns of the people, adhere to the unchanging "Tao", and focus on the people. Dong Guanpeng believes that under the guidance of "Dao", the most important accomplishment is to achieve a high degree of consistency between words and deeds through the 5G all-media platform faster, more, more timely, and more effectively. Be an organization that is warm in action, an organization that has temperature, is willing to take responsibility, and makes good use of wisdom to communicate.
Zhang Xinruo is from the China Agricultural Industrialization Leading Enterprise Association. The public account that has been suffering from market-oriented operations is of little significance to the real work. This time, the case of the State-owned Assets Supervision and Administration Commission's State-owned Assets Supervision and Innovation Center has many similarities with the work of enterprise associations.
The lecture entitled "How to Create Public Welfare Communication with New Media" made by the editor-in-chief of "State-owned Assets New", analyzed in detail the issues that should be paid attention to in the construction and promotion of new media. Its nature, audience, and communication channels all work with the association. Closely related, "Especially the explanation of the practical part can make us take a lot of detours," Zhang Xinruo said.
The "connection" in the 5G era will be richer and faster, and it will give birth to new business formats. Zhang Huanran believes that this requires that communicators not only need news literacy, but also technical literacy and data literacy, be good at mining good stories from big data, and good at using new means of communication to make good sounds.
When talking about the need for training, he said that training is to improve the professional level of public welfare personnel, enhance the ability and quality of public welfare organizations to make good use of new media, and further expand the influence of public welfare organizations. At the same time, build a good aggregation platform for national public welfare organizations and form a joint force.
As an optional tool for public welfare activities, short videos are becoming increasingly important. Pan Jing, the director of Douyin's government affairs operations, participated in the "warm video" solicitation event hosted by the Central Cyberspace Office in 2018, and the total number of topics read reached 3.2 billion. His lecture on "How 5G Era Short Videos Empower Social Organization Branding" was welcomed by the trainees.
Stars to help public welfare are another feature of the era of public welfare. Zhang Zhipeng, the Secretary General of the Spokesperson Committee of the China Advertising Association, gave a lecture entitled "Star Talents Helping Public Welfare Improve Social Impact", and the content was refreshing for the participants.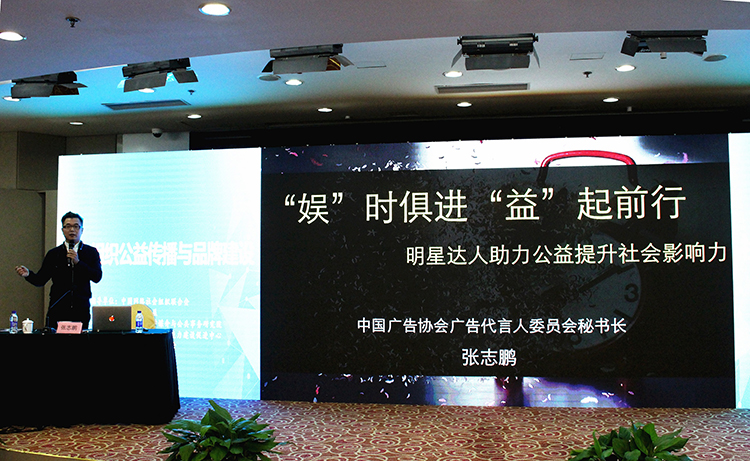 In addition to the theoretical improvement, the key lies in the actual organization of public welfare activities, the establishment of audience awareness, brand awareness; learn to use crowdfunding, crowdsourcing, crowd-creating Internet thinking to transform traditional public welfare activities.
Share to: