The 2018 "Qianmiao Plan" Research & Study Camp was held at Yanqi Lake Campus of the University of Chinese Academy of Sciences (CAS) on August 18, jointly organized by the China Children and Teenagers' Fund and Beijing Young Zen Foundation.
Since its launched in May, 1226 outstanding students have been recommended to 313 primary and middle schools in 107 state-level poor counties in 21 provinces. After online evaluation, expert evaluation and comprehensive consideration, nearly 100 primary and middle school students who are both excellent in quality and learning are selected into the 2018 "Qianmiao Plan" study & research camp. From August 7 to 18, children focused on learning teaching by field experts, such as science, education, research and development courses of learning abilities, covered imagination, memory, concentration, leadership, and also listened to experts Zhou Zhen, Dong Jiawen from the national "Thousand Project" to learn physical science, artificial intelligence, architectural art, and so on. During the event, children also visited the Lifelong Learning Laboratory of Tsinghua University, Science and Technology Museum of China and other scientific popular science institutions, and had face-to-face communication with scientists to learn about the research frontier and the latest scientific and technological achievements.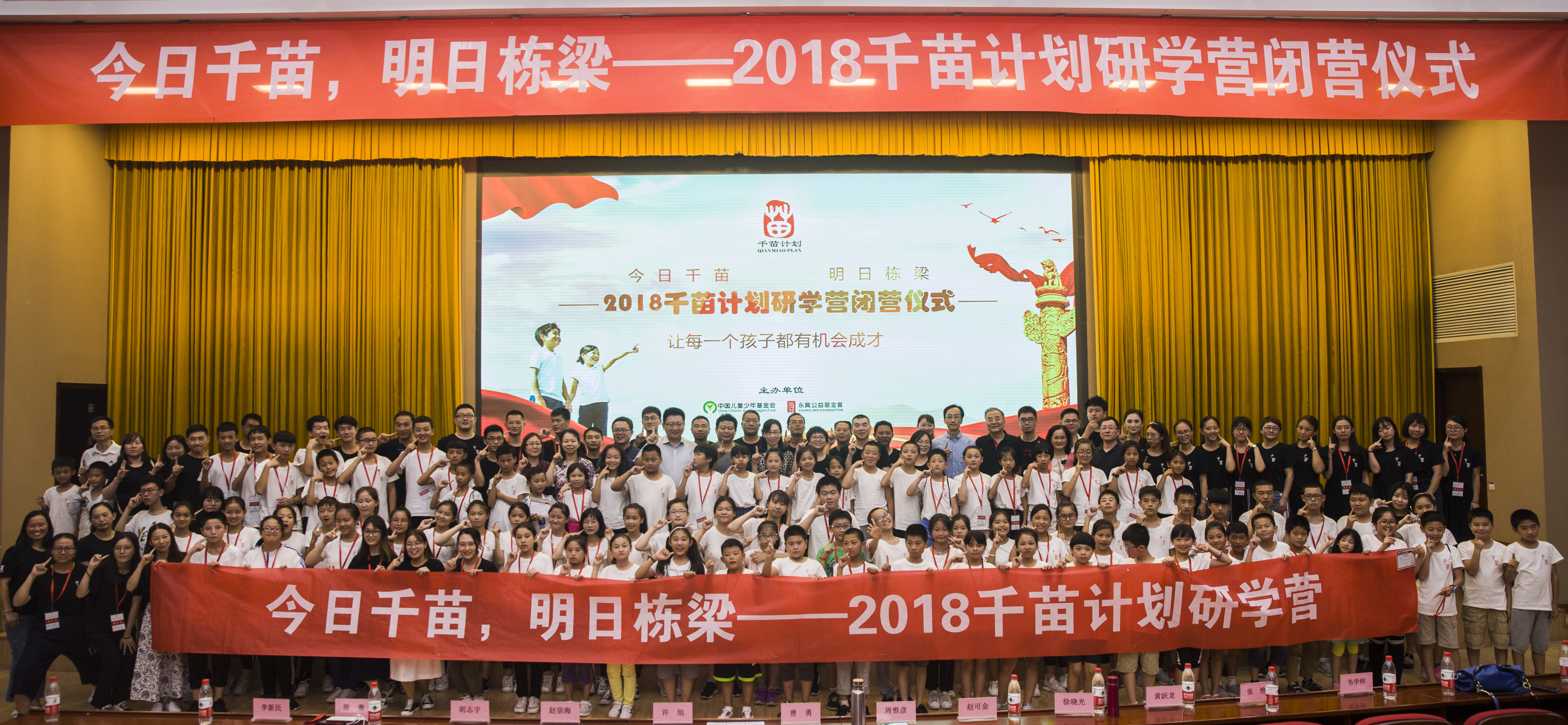 Group photo on site
12 days of studying and researching brought a lot to children. Yang Renyu from a poor mountain village in Qinghai Province, was recommended as the host of the ceremony. Speaking of that, the 13-year-old boy smiled shyly, "I used to be too timid to raise my hand even if I knew the answer. But here, the teacher has been encouraging and guiding me, now I not only willing to speak in front of the public, but also took the initiative to make friends from Xinjiang". In addition to the change in personality, Renyu was most happy to learn a lot of learning methods that he never heard of before. He started late in learning English with poor foundation, and memorize words was the most difficult part of English for him. After learning in the camp, he could remember all the difficult words by visualizing them. "My sister is in Grade 12, I will teach this method to her when I go back, and I hope she can be admitted to a good university", he said.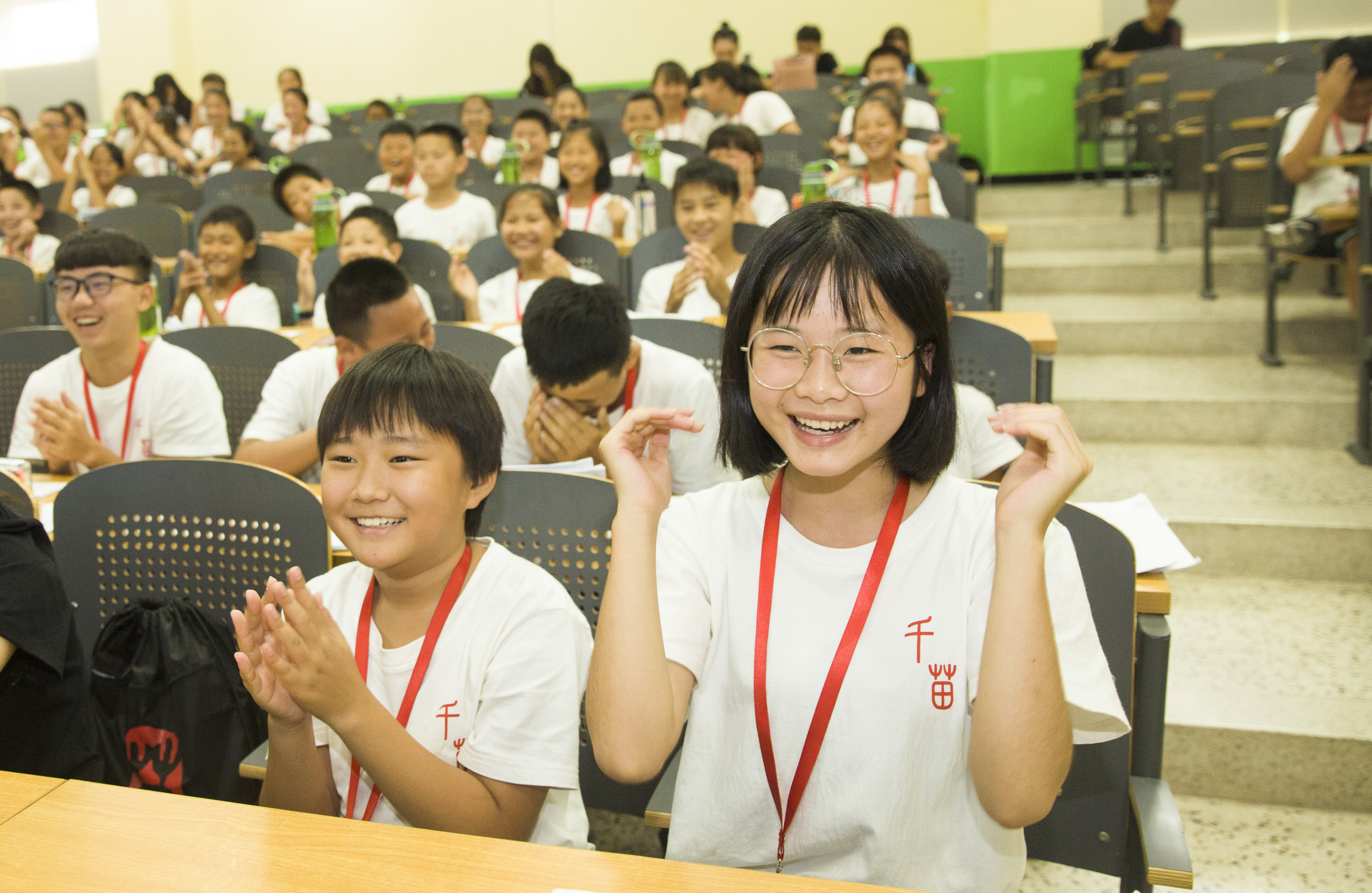 Research & Study Class
Sun Jiali, a first-year student at Capital University of Economics and Business, was one of 18 tutors invited by the organizers during the camp. "As a counselor, we helped children adapt and learn better, but in turn they gave me a lot of things, and their courage, innocence and imagination kept surprising me, Always believe that a child's potential is limitless", he said.
Zhu Xisheng, Secretary-General of the China Children and Teenagers' Fund, congratulated and encouraged children to grow up ambitious and to see the bigger picture as soon as possible, so as to become a builder and successor of the motherland with a sense of national mission, innovative spirit and practical ability.
Zhou Weiyan, President of Beijing Young Zen Foundation, reviewed the changes of children in the research & study camp. Through daily observation and evaluation of children's behavior and habits, more than 80% of children have had improved their learning attitude, learning method, concentration, communication mode and team integration. Zeng Yong, the donor of "Qianmiao Plan", said that those children are the future of the society. He hoped that the children master the advanced learning methods while having sincere love for their motherland.
At the ending ceremony, Hu Zhiyu, Chen Rong and Huang Yuelong, experts in the national "Thousand Talents Program". and Zhao Kejin, Deputy Dean of the School of Social Sciences at Tsinghua University, were hired as the second batch of "Qianmiao Mentor".
Leaders at event issued the certificate completion of the student representatives of the research & study camp
Xu Xu, Deputy Secretary General of the China Children and Teenagers' Fund, Zhou Yiyan, President of the Beijing Yong Zen Foundation, and Zeng Yong, donor of the "Qianmiao Plan", jointly presented the certificate of completion to the student representatives of the 2018 "Qianmiao Plan" Research & Study Camp. 10 schools including No.2 Middle School of Ledu District, Qinghai Province and Gongshan Town Junior Middle School in Hengdian County, Yunnan Province, have become the first batch of schools of "Qianmiao Cultivation Base".
"Qianmiao Plan" is jointly launched by the China Children and Teenagers' Fund and Beijing Yong Zen Foundation. Zeng Yong, a charity man, donated 10 million yuan to set up this innovative education public welfare program. With the mission of "Popularize quality education resources to improve children's learning abilities", "Qianmiao Plan" will cooperate with top experts in the field of science, education and so on, for the vast number of children, especially children lack of development opportunities and high quality education resources. By providing high quality education resources and research learning opportunities, ascending children in the new era under the background of the feelings and cultural atmosphere, and the ability to learn in a highly informational, intellectualized society, for the national culture, reserve a batch of national purpose, innovative spirit and practice ability of talents.
A total of 150 primary and middle school students and teachers and university students volunteers from 12 provinces and autonomous regions including Xingjiang, Qinghai, Yunnan, Gansu and Guizhou attended the ending ceremony of the Research & Study Camp.
Share to: