"When I walked into the room, an aunt came and held me. Later I knew I didn't have my Mom and Dad, but I have an 'Ankang Mom'. She was the one who took care of me day and night in my worst pain," Xiaolin said.
The 11-year-old Xiaolin lost his parents after the Wenchuan earthquake on May 12, 2008. He and his sister were taken to the "Ankang Home", a safe and healthy homeland project initiated by the China Children and Teenagers' Fund (CCTF) and Rizhao Iron and Steel Group to rescue orphan children affected by the earthquake disasters.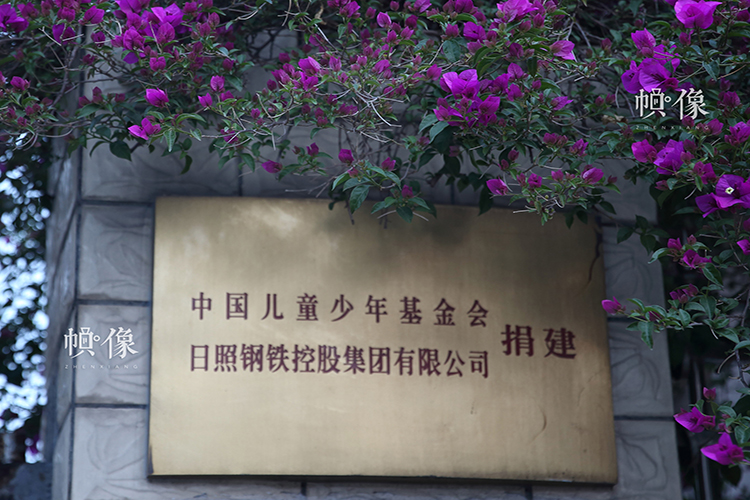 "Staff of the Ankang Home project visited quake-hit villages, having transferred and placed 712 orphan and poor children in the first place. Some of the children found their parents later, and the Ankang Home took 672 in the end," said Zhu Xisheng, secretary general of the CCTF.
One week after the earthquake, orphans and children from single-parent families and impoverished families in the hard-hit areas in Sichuan Province moved to Beijing and Rizhao City of Shandong Province. In the then Ankang Home, the oldest child was 19 years old, and the youngest was only 4 years old.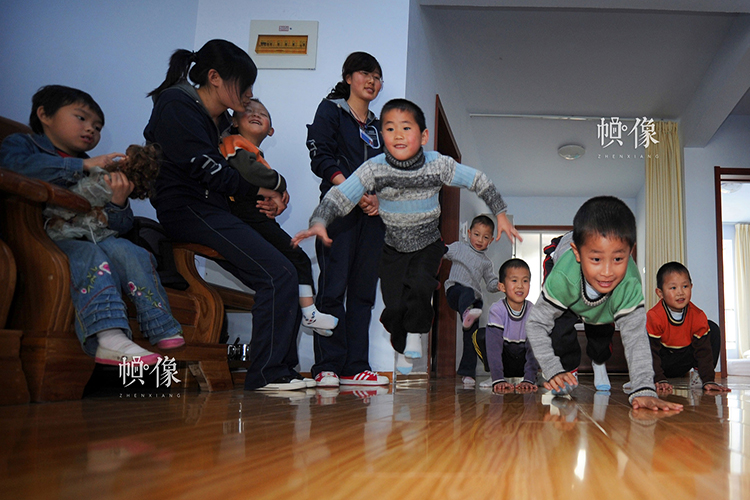 In April 2009, "Ankang Mom" Li Xiangnan (Stander) plays with children together. (Photo/Lei Sheng)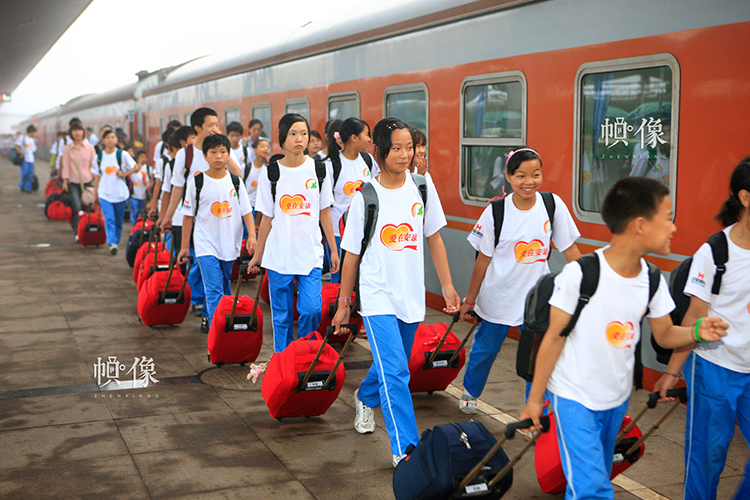 In June 2009, the children leave Rizhao's Ankang Home and head for Shuangliu Ankang Home in Chengdu, Sichuan. (Photo/Lei Sheng)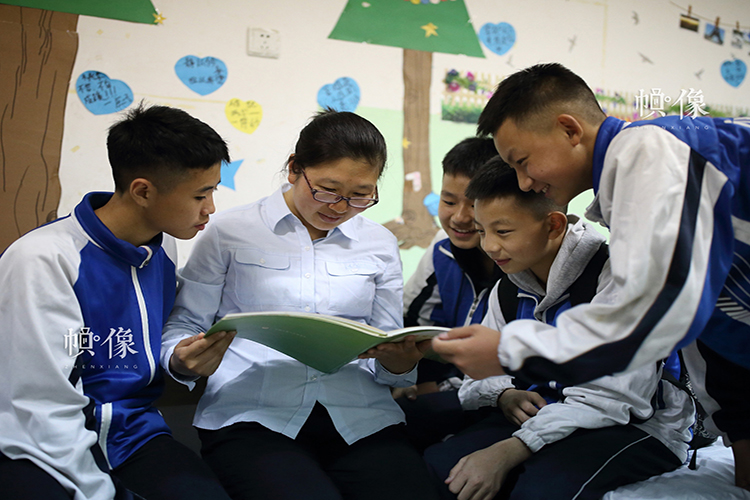 In April 2018, some children watch photos with Li Xiangnan. (Photo/Chen Weisong)
The "Ankang Home" project has experienced two stages in Rizhao and Shuangliu, respectively. In August 2009, the children returned to Sichuan's Shuangliu Ankang Home which has become the largest centralized resettlement base for orphaned children in the quake-hit area after nearly nine years.
"When I first saw these children, I felt that they were no different from the children outside. They were sunny, cheerful and courteous, which made me love them more," said Hu Yuanzhong, head of the Shuangliu Ankang Home.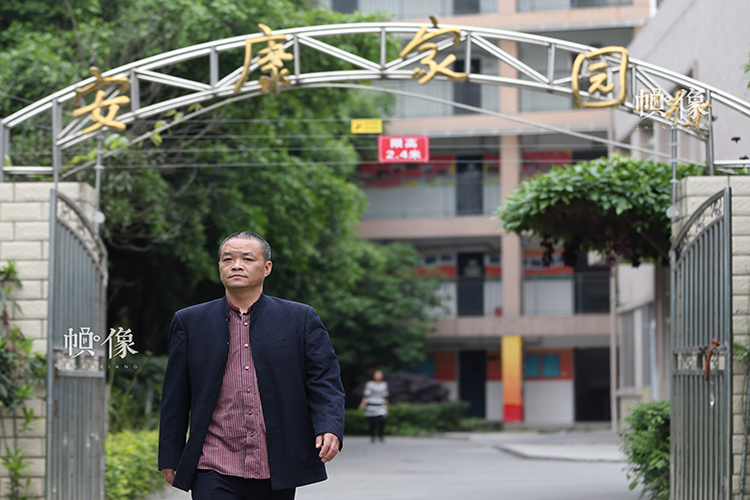 Hu Yuanzhong was assigned to the Ankang Home as headmaster from the Civil Affairs Bureau, and then he became the common father of 672 children.

Before working at Ankang Home, Hu worked in the army for 17 years and was the coach of the female special police team. "Children at Ankang Home are different in age and I need to use different approaches to get along with them. I have great pressure at the begining," said Hu.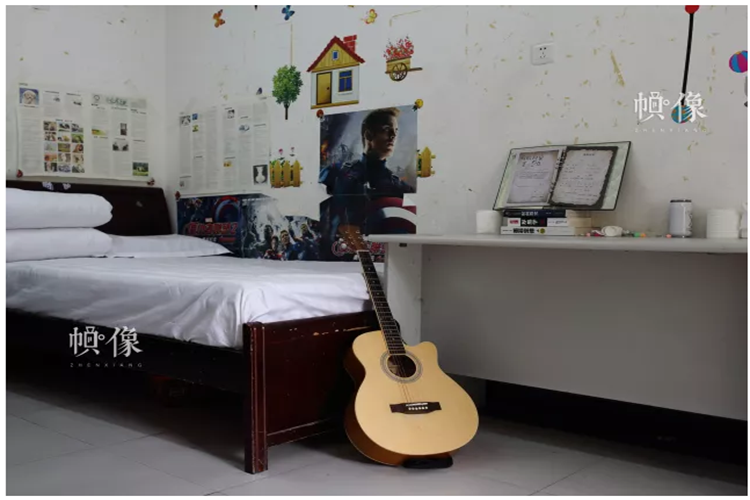 Marvel posters on the children's room walls and guitars on the ground. (Photo/Chen Weisong)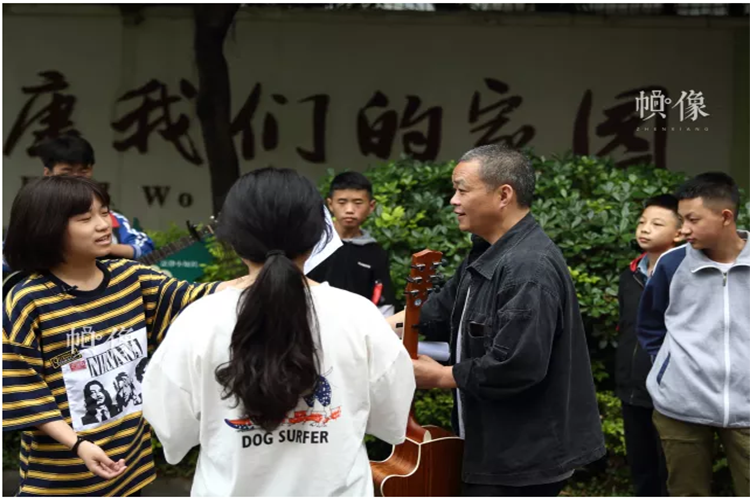 Children talk with Hu Yuanzhong. (Photo/Chen Weisong)
It has been nine years that Hu Yuanzhong lived with the children at Ankang Home. He feels happy for every child coming out of the home. "Some went to college, some enlisted in the army and won merits, and some have already worked. The children are all hardworking and they are all my pride." Hu Yuanzhong said.
The first children brought up by "Ankang Mom" Wang Chen have grown up. "Children here are particularly affectionate. They always concerned me after leaving here, and those who cannot come back to visit will often make phone calls," Wang Chen said.

So far, 282 students from Ankang Home have been admitted to university and 342 students have worked or joined the military since graduation from vocational high schools. Only 48 children continue to live and study at Ankang Home because they are young.
"The successful practice of Ankang Home for 10 years has explored post-disaster emergency rescue and relief models for orphaned children that feature government support, private fund, and charity organization supervision. We will do more in assessment and experience review to provide management experience reference for post-disaster child relief placements at home and abroad," said Zhu Xisheng, secretary-general of the China Children and Teenagers' Fund.
As children grow up, the number of children in Ankang Home gradually drops off. The last child is expected to go to college and enter society four years later, when the Ankang Home project will complete its historic mission.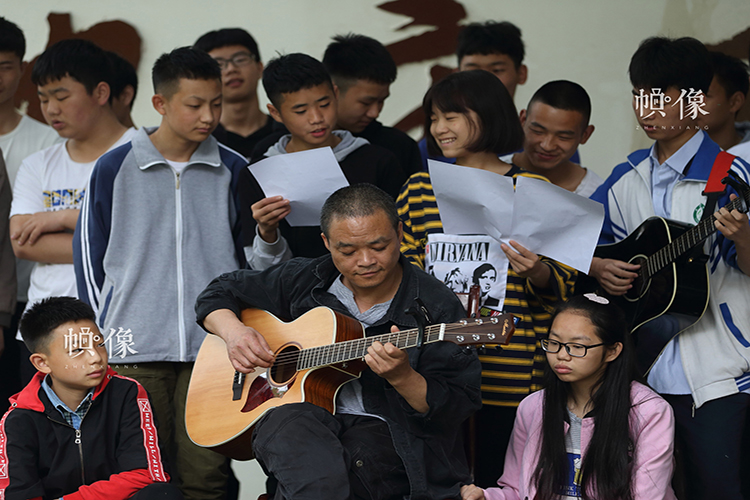 Children at Ankang Home are singing with Hu Yuanzhong. (Photo/Chen Weisong)
(In this article, the minor interviewees are all aliases.)

Share to: