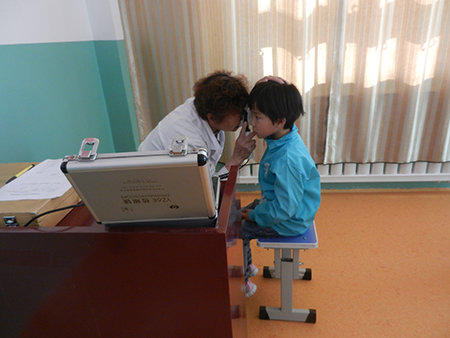 A doctor tests a child for impaired eyesight. [Ningxia Women's Federation /Zhou Huiqin]
A delegation of staff from the Department of Children's Impaired Eyesight in the China Children and Teenagers' Foundation (CCTF) provided free medical check-ups to 401 impoverished children with impaired eyesight and identified 118 teenagers as eligible for future medical treatment under financial assistance from Shanghai Mingyue Glasses Co., Ltd. during a visit to Lingwu and Zhongwei cities in northwest China's Ningxia Hui Autonomous Region, on May 12-16.
According to the CCTF, each teenage beneficiary will receive financial assistance valued at 5,000 yuan (U.S.$ 760) to cover medical expenditure and accommodation.
It is the 7th time the CCTF has conducted a similar campaign in Ningxia.
(Provided by Ningxia Women's Federation)
Share to: